Sarrah Wilkinson - 11/28/2022
I've got a bunch of spare glass cabochons, so I thought I'd try this out - embedding them in my resin Krampus face ornament molds! It's pretty simple to do, but I love how they turned out. These'll be fun to paint.
Of course, if you're interested, I can also do blanks with embedded glass eyes like this, just send me a message here or on Etsy. Blanks also come with the option to be made into magnets or ornaments, or they can be used as wonderfully creepy Christmas doll faces.
---
Categories: Artwork, Shop
Tags: Christmas ornament, demon, embedded, face, glass cabochons, glass eyes, head, Krampus, Krampusnacht, ornaments
Live Date: 11/28/2022 | Last Modified: 11/28/2022
Sarrah Wilkinson - 9/27/2022
Well, that's an interesting thought! Robbie was cleaning off these pieces for a couple of orders, and he arranged them to dry in this pattern. It would make a really amazing looking demon skull or monster skull. It is a bit reminiscent of a mythosaur - not quite, but it has the same sort of vibe.
It may be a little unwieldy as a face mask, but it could work as a headdress or even just a wall hanging piece. I might have to make one sometime! But in the meantime, I thought I'd put the idea out there into the universe in case anyone else decided they might want to have a go!
We'll be open for made-to-order resin masks and other pieces (like these horns) up until October 12th, when we close for the Halloween season. After that, we'll be open for orders as normal again starting November 1st.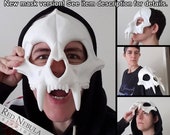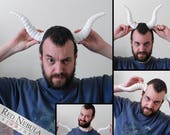 ---
Categories: Costuming, Shop
Tags: cat skull, horns, mask, maskmaking, resin cast, resin mask
Live Date: 9/27/2022 | Last Modified: 9/27/2022
Sarrah Wilkinson - 2/22/2021
I really like when we get orders for vinyl decals in playful colors - they're fun to take pictures of to share! I'm not sure everyone knows that I can make decals in a whole slew of different colors, including a couple of metallics. The decals are rated for outdoor, and I've had one on my own car for a bit over five years now!
Decals can also be put on laptops, mirrors, or used as a semi-permanent decoration on just about any flat surface.
If you need an "I Love Cats" decal, check the links below. I also have this design as a pinback button (or optionally, as a magnet or keychain)!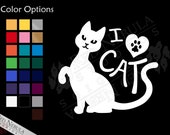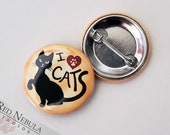 ---
Categories: Artwork, Shop
Tags: cat, green, I Love Cats, vinyl decal
Live Date: 2/22/2021 | Last Modified: 2/22/2021