Sarrah Wilkinson - 2/22/2021
I really like when we get orders for vinyl decals in playful colors - they're fun to take pictures of to share! I'm not sure everyone knows that I can make decals in a whole slew of different colors, including a couple of metallics. The decals are rated for outdoor, and I've had one on my own car for a bit over five years now!
Decals can also be put on laptops, mirrors, or used as a semi-permanent decoration on just about any flat surface.
If you need an "I Love Cats" decal, check the links below. I also have this design as a pinback button (or optionally, as a magnet or keychain)!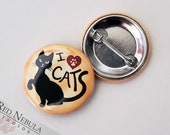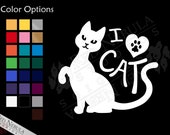 ---
Categories: Artwork, Shop
Tags: cat, green, I Love Cats, vinyl decal
Live Date: 2/22/2021 | Last Modified: 2/22/2021