Dragon Hatchling Sculpture - Little Red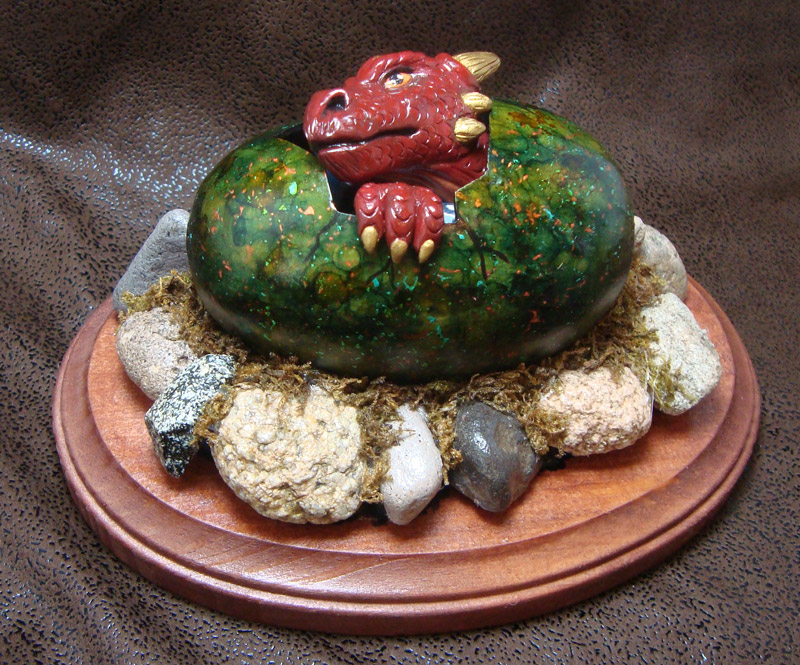 The second photo is my favorite; this little fellow has a very mischievous face.
The dragon is made from polymer clay, painted with acrylic. The horns and the edges of his dorsal scales are done in a shimmery gold paint. The egg's interior is resin, which is quite shiny and liquid-looking, though it is actually solid and dry. The egg is actually the shell of a gourd, colored with leather dye and flecks of shimmery paint. The base is wood, rocks, and moss. I half expected this little one to spring to life at any moment!
This hatchling was adopted on 3/26/2012!
---
Categories: Artwork, By Subject, By Type, Fantasy, Just Dragons!, Traditional Art/Sculpture
Tags: baby, cute, dragon, egg, gourd, green, handmade, hatchling, mixed media, moss, OOAK, red, rocks, sculpture, wood, wooden base
Created: 3/15/2012 | Modified: 3/15/2012