Dragon Wall Mount
This lovely fellow is Sylacris, a wall mounted dragon sculpture! I made him in several parts - the head and neck as one piece, a pair of separate horns, the eyes as separate pieces (which can also be replaced by any flat-back 12mm eyes or cabochons for a more exotic look!), and a rocky back piece, making him look like he's breaking right through the wall.
The dragon himself has a lovely lot of detail, covered in individual scales, with fangs protruding over his lips and a scar across his muzzle.
If you'd care to see how I sculpted him, I took some video to create a timelapse of the whole process - on the dragon head itself, anyway!
Sylacris is available as an unpainted kit with optional base piece, and sometimes as fully finished, painted wall mounts too!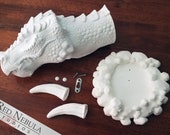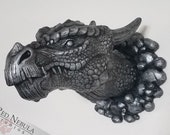 ---
Categories: Artwork, By Subject, By Type, Fantasy, Just Dragons!, Traditional Art/Sculpture
Tags: blank, bust, cast, dragon, fantasy, resin, sculpture, Sylacris, wall art, wall mount
Created: 2/3/2020 | Modified: 2/3/2020