Dragon Hatchling Sculpture - Spiny Desert Drake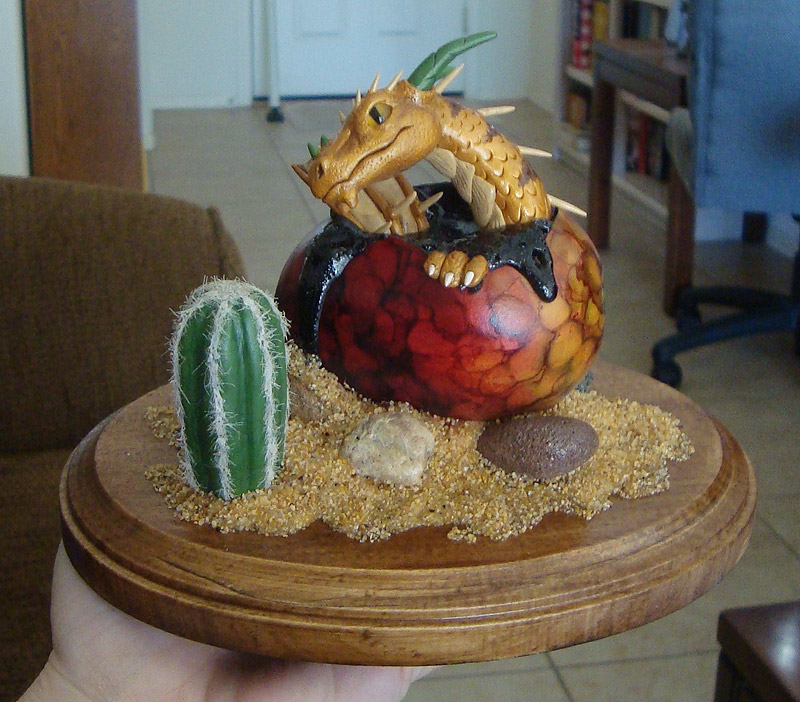 This sculpted drake hatchling was crafted to resemble the exclusive I did for Phoenix Comicon 2012.
A true desert dragon, he has golden-bronze colored scales, sharp spines, and egg yolk resembling molten lava rock. His egg sits on a bed of sand beside a small sculpted cactus. The cactus is also made from polymer clay, and the "spikes" are tiny bits of faux fur carefully glued in place by hand.
This is the first dragon I crafted using a glass cabochon for the eye. His pupils follow you!
---
Categories: Artwork, By Subject, By Type, Fantasy, Just Dragons!, Traditional Art/Sculpture
Tags: baby, cactus, cute, desert, dragon, drake, egg, gourd, handmade, hatchling, mixed media, OOAK, polymer clay, rocks, sand, sculpture, wood, wooden base
Created: 5/6/2012 | Modified: 5/6/2012